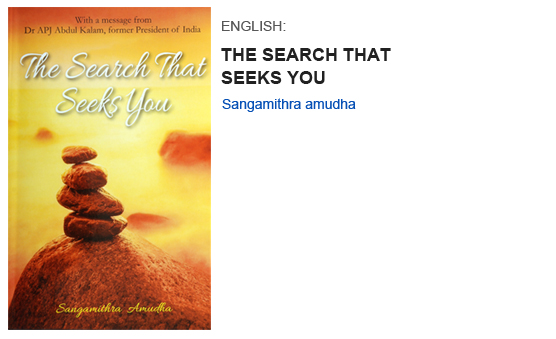 A life-altering book on the power of meditation as a tool for achieving balance and happiness in daily life.
'It is not possible to seek or feel God. Yet, you claim that God exists…I feel deceived by it.'
So asks 'Karma', the protagonist of this award-winning book by Sangamithra Amudha, founder and trustee of Sanmarga Foundations. In her debut book, The Search that Seeks You, Sangamithra explains the essence of meditation as a tool for understanding and achieving balance in our lives. Told in story form, the book addresses various life situations—death, sorrow, happiness, change, and fear of the unknown—and provides a thoughtful approach to dealing with them. Along the way, it imparts valuable life lessons that will lead you to self-discovery, enlightenment, and ultimately eternal happiness.

I am delighted to read the book "Ennai Naan Thedukiren" (Tamil version of "The Search...That Seeks You") written by Amudha, at one stretch. The flow is so captivating. I couldn't leave the book before I completed it at 1:30 am in the early morning. Love, culture, affection, nation, happiness, sorrow, life, death, action, result - all these phases of life have been beautifully articulated by the author. The innovation is - Amudha has intertwined the whole philosophy in such a way that it makes it appear that the entire phenomena portrayed in the book are true. I congratulate Amudha for this brilliant work which provides the useful message of life to every reader in the society.
– Dr. APJ Abdul Kalam, Former President of India

Amudha's methods of teaching meditation has inculcated interest in learning and practicing of meditation among prisoners.
– Mr. R. Nataraj, ADGP of Prison (retired 2011)

The book conveys the message of meditation through the protagonist Karma, who faces various situations in life in a calm and meditative manner.
– Mr. Ganapati Ramakrishnan, Indian Express